Fresh from the killing fields of "research," our heroine appears! Resplendent in some bodacious polished cotton fabric that was probably rejected from the set of "Golden Girls", she demonstrates her abundant charms to the masses.
Bask in the glories of imperious glances and awkward selfies!
Come, my children, into the liiiiiiiiiight....
Dazzle your senses with an alluring up-cup shot of wrinkled fabric and load-bearing 1980's Waverly calico!
Relish the bewildering confusion of yet another shot of No Bosoms, featuring an enticing peak at the hoarder-style pile of mess accumulating in the corner!
Most of that is my Goodwill pile, I swear.
There are a few important points I'd like to make:
1., These pictures are a bit on the "gently aged" side. Honestly, I think they are over a year old. That's significant because...
2., I'm a whole lot better at drawing my eyebrows on now! And...
3., I've since added bust gussets to liven things up in the Balcony seating, if you catch my drift.
I have no need for 1820-1840 stays, but I wish I were the kind of person who needed them, so I'm making them. It's the Kevin Costner in "Field of Dreams" approach to sewing. "If you elaborately plan, and then poorly execute it, logic will give way to miracles and invitations will coommmme..." Since there isn't precisely a pressing need for this type of garment, I decided to go for broke and make them as versatile as possible. Ideally, they will at least cover me from late Regency- late Romantic.
This was the intended target:
Via the Met, home of the Super-Famous Lusciously Embroidered Stays
The mock-up stays that I'm wearing are overall pretty solid in the fit department. The wrinkles at the waist are 99% the result of the incredibly graceful angle from which the picture was taken, and the length and bust height are both good. My original intention was to follow the "pattern" of the inspiration stays as much as possible. But... (there are always buts, even when you think you're just dealing with busts) the original cup design just wasn't working for me. Frankly, it was kind of amazing. I have the same voluptuous curves of a yard stick. What were the chances that I'd stumble upon a bust-cup design that wouldn't leave me enough room??
But, there it is. I agonized over it for a while, and finally decided to deviate. After all, my natural waist is *ha ha haaa ha sob* nowhere NEAR the position of the band on the inspiration stays. Then, I found this lovely pair...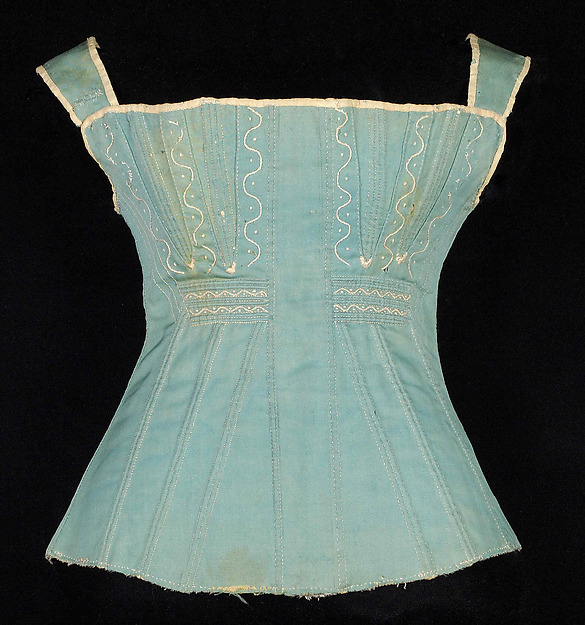 I feel as if we've Met before...
...and I'm pretty sure that they are better suited to MY lovely pair. (har har) Though my need of a bust-gusset does not extend to the range of twosies, this pair of stays was clearly made for someone with my gawky, high-waisted mutant proportions. The plan is now to marry elements of the two stay models, which will probably result in something like this: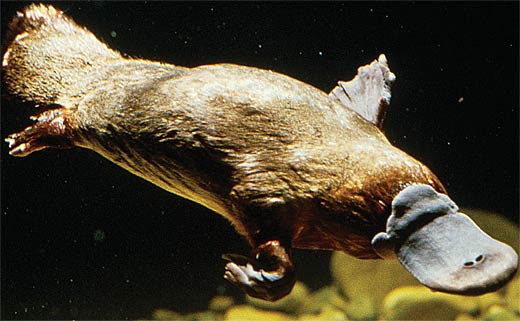 The duck-billed platypus of the Historical Costuming community, if you will.
**I have no idea what heinousness has been perpetrated on Blogger over my absence, but suddenly, it's practically impossible to get pictures centered (see most of above), and I have no control over that huge gap at the top. Weird.